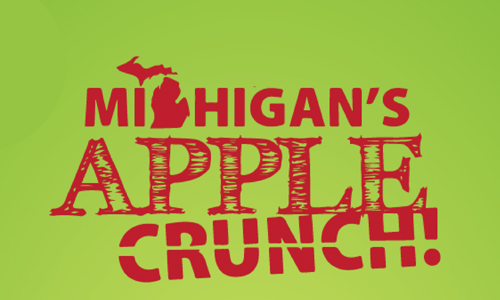 Apple crunch aims to help Michigan connect to our agricultural bounty, build support for local food, strengthen our regional economy and recognize the benefits of whole, fresh, nutritious fruit!
Grab an apple on Thursday, Oct. 10 and join the crunch! Apples will be available in all residential dining halls, and served free of charge from 9 a.m.-Noon at Sparty's locations, while supplies last. In addition, dining halls will offer apples in a variety of ways, including displays and special menu items, like mini apple pies from MSU Bakers, apple pie soup, apple crisp and caramel apple French waffle.
Below are some fun facts about apples from the Michigan Ag Council and other resources that you can reference for more information.
Michigan apple facts:
The Michigan apples industry's annual economic impact is estimated at $700-900 million

Michigan ranks 3rd in the nation in apple production

There are more than 9.2 million apple trees in commercial production, covering 36,500 acres on 850 family-run farms throughout Michigan's lower peninsula

Michigan harvested about 126 million pounds of apples in 2012, but in a typical year averages 966 million pounds of apples

60 percent of all Michigan apples are processed into other products

Michigan slices more apples than any other state for use in pies and fresh cut slices and also processes apples into applesauce, fresh and shelf-stable apple cider and apple juice
Nutrition:
Apples are naturally free from fat, cholesterol and sodium

They are an excellent source of fiber

Apples are rich in antioxidants and phytonutrients, which help protect the body from harmful free radicals

Apples are a good source of B-complex vitamins and trace amounts of minerals
Resources:
Event Venue Name:
All Residential Dining Halls and Sparty's Locations