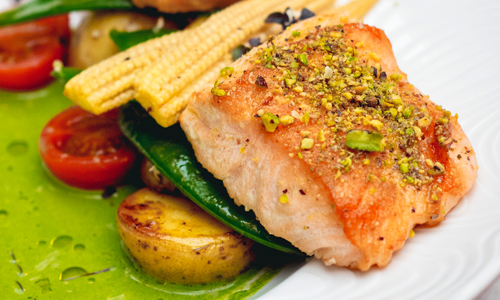 The October featured food is whitefish, which will be used in the recipe for Pistachio-crusted Whitefish. 

Each month, you're welcome to taste test the featured recipe before making it at home. Join us at Brody Square Demonstration Kitchen on Wednesday, Oct. 18 at 12:10 p.m. to watch a live demonstration. In October, special guest Chef Rajeev Patgaonkar will demonstrate a recipe from Michigan Sea Grant's cookbook Wild Caught and Close to Home: Selecting and Preparing Great Lakes Whitefish. The kitchen is located to the left when you enter Brody Square, adjacent to Pangea. You can also try it for lunch on Oct. 18 at Brody Square, The Gallery at Snyder / Phillips and Riverwalk Market at Owen Hall.

Recipe for Health is a partnership between Culinary Services and MSU's Health4U program, encouraging the campus community to redefine the way we think about health. Each month, a seasonal food or pantry staple is featured and guests have the opportunity to taste test the recipe before making it at home.

Visit health4u.msu.edu for additional information and past recipes!
Event Venue Name:
Brody Square Demonstration Kitchen
Event Venue Address:
241 W. Brody Road
East Lansing, MI 48825