Located in the MSU Union Food Court, Eat at State supports three dining venues. All inquiries should be directed to foodcourts@rhs.msu.edu.
Beginning on Wednesday, Oct. 20, The Roost venue will open on weekdays. The location will be all you care to eat, offering dine-in service only. Students and faculty/staff can use their dining plan for entry, or pay the dinner rate. Please note our all-you-care-to-eat locations are currently closed to the general public. You must have a valid MSU-issued ID card for entry.
Hours for The Roost will be Monday-Friday, 4:30-11 p.m.
Location
49 Abbot Road
East Lansing, MI 48824
To see the MSU Union Food Court menu, please visit our menu page for this facility.
THE ROOST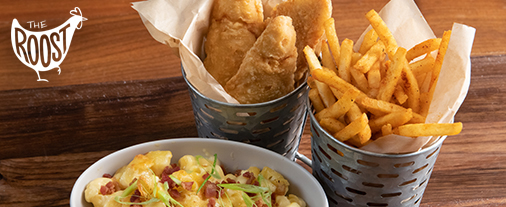 Serving classic chicken tenders, mac and cheese and Roost fries.
STREET TACOS

Serving street-style tacos and nachos.
UNBELIEVA-BOWL

Serving a variety of grain bowl options. Bowls are offered as grab and go from the food court venue and the MSU Union Sparty's.