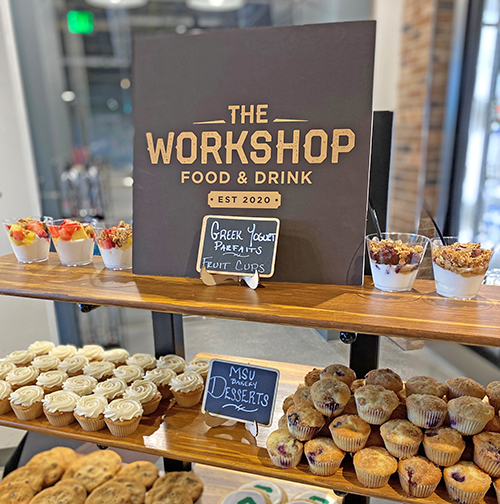 Located at the STEM Teaching and Learning Facility, The Workshop is a unique dining location that opened in fall 2021. Formerly the Shaw Lane Power Plant, which was decommissioned in the 1960s, the STEM building features laboratories, breakout space, study areas and other interactive options. To bring new life into the power plant, designers repurposed many components of the original 1948 facility. For example, they used a four-story boiler as a focal point in the lobby and created art rom salvaged steam valves and machinery covers.
With a diverse menu of options, including breakfast sandwiches, bakery items, grain bowls and paninis, The Workshop appeals to various campus diners. The operation is also a Proudly Serving Starbucks location, offering favorites like brewed coffee, cold brew, lattes, Refreshers and tea.
During fall and spring semesters, guests are able to utilize the Transact Mobile Ordering app to place an order in advance for pickup during open hours only. Students with a Silver, Gold or Platinum dining plan have mobile ordering included as a Combo-X-Change option. The app also accepts Spartan Cash and debit/credit cards. Additionally, select items can be purchased on site, including grab and go products, snacks and beverages.
Please follow the link below for the latest hours of operation. Additionally, you can view The Workshop menu online.
Location
642 Red Cedar Road
East Lansing, MI 48824