In the Division of Student Life & Engagement (SLE), we strive to ensure MSU's long-term sustainability through innovative and balanced strategies that support stewardship, fiscal responsibility, and partnership.
Throughout the academic year, the MSU Food Stores procurement team focuses on implementing Triple Bottom Line initiatives that reduce costs, limit waste and decrease energy consumption. In addition to promoting a high-quality supply chain, the department implements strategies to further improve outreach and education, helping students and team members advance their passion for social responsibility.
Culinary Services also continues to emphasize local sourcing, water conservation and energy efficiencies, and zero waste principles of reuse, reduction, and recycling in facilities.
This page is designed to share high-level information about sustainability efforts being made in the area of Culinary Services. For more information about MSU Sustainability and SLE Sustainability, please refer to the following resources:
Reuse and Recycling Efforts
MSU Reusables Program
In 2022, we launched the MSU Reusables program for mobile ordering! Students can choose this option in the Transact Mobile Ordering app when placing a mobile order for pickup from Holden or Holmes Dining Halls. Learn more about the program and find out how to sign up: eatatstate.com/sustainability/msureusables

Pack Up, Pitch In
Since 1996, MSU students participate in Pack Up, Pitch In. Taking place during residence hall move-in and move-out, the program recycles unwanted items, including non-perishable food, to benefit local charities and those in need.

Single-use Plastics

For mobile ordering, Grab & Go, and retail purchases, paper bags are utilized.

Compostable products and ware are utilized whenever possible.

Straw-less lids are utilized in retail areas like MSU Concessions to cut down on straw use.

The State Room Restaurant uses paper straws and sustainable wooden stir sticks as well.

Community Kitchens
Several residence halls and 1855 Place apartments on campus have community kitchens available to students and staff with nearby recycling. Additionally, the 1855 Place building which includes community, office, residential, and retail space has extensive recycling available for paper, metal, glass, and plastic as well as a composting bin. Learn more about community kitchens on the Live On website.

Reusable Bottles
Water bottle filling stations are located throughout campus to encourage the community to fill reusable bottles as opposed to purchasing bottled water. Reusable cups and water bottles replace single-use plastics and use less energy, creating less pollution and, ultimately, fewer greenhouse gases. A map available online from MSU Infrastructure Planning and Facilities (IPF) allows Spartans to find a water bottle filling station: apps.gis.msu.edu/water-bottle-filling-station. Please note you cannot refill containers in residential dining halls and retail locations.
Food Donations
For more than 25 years, MSU has been donating food to the local community. Through various programs, we collect perishable and non-perishable foods throughout the year. Annually, around 100,000 pounds of food is put back into the community.
Perishables come from campus dining hall kitchens, Kellogg Hotel & Conference Center, and programs offered during holidays, semester breaks, and move-out. They are provided to the MSU Student Food Bank as well as the Greater Lansing Food Bank, an area network that distributes to the local community.
Non-perishable food items get collected from retail locations for distribution to the MSU Student Food Bank and Greater Lansing Food Bank for the community at large.
In addition, we collect items from our Culinary Services kitchens at the end of the year as part of the Pack Up. Pitch In. campaign, along with clothing, household items, and furniture.
Local Sourcing and Foodservice Providers
Culinary Services is committed to sourcing food as locally as possible, working to strengthen our supply chain and focus on Triple Bottom Line initiatives (people, planet and profit).


 
MSU considers its own production capabilities on campus before looking off campus. We have our own on-campus bakery, MSU Bakers, and have established strong partnerships with the MSU Student Organic Farm, Bailey GREENhouse and Urban Farm, MSU Dairy Store, and MSU Meat Lab to reduce costs, limit waste and decrease energy consumption.

The MSU Student Organic Farm (SOF) is now housed in the Division of Student Life & Engagement (SLE), providing the farm with a broader campus-wide platform for education and engagement.
The 20-acre, certified organic year-round teaching and production farm offers an immersive, hands-on farming experience for undergraduate students, Organic Farmer Training Program participants, and volunteers.
The SOF also collaborates with MSU faculty to offer courses in organic farming, internships, interdisciplinary experiential educational activities, and research opportunities.

If we're unable to source hyper-locally from on-campus, we look within the state and surrounding states. We have a wide variety of local and regional vendor partners to assist with sourcing as locally as possible.
The Sustainable Food Procurement Guide provides detailed information about our food sourcing, sustainability efforts, and best practices and considerations in specific purchasing categories. Follow this link to access the interactive guide.
 
MSU is a fully engaged institution in environmental stewardship initiatives. It is the expectation that all business partners support and practice the University's vision. Below are common sustainability and environmental stewardship criteria that are applied to foodservice provider contracts.

"Environmentally friendly" packaging of products is desired. We evaluate a firm's plastic standards and inking standards for labeling.
Recycling and issues relating to source reduction are important concerns of the university. We evaluate a firm's ability to contribute to the university's effort to reduce, reuse, and recycle through a variety of means such as source reduction in its facilities, utilizing products with reduced packaging, and container packaging exchange programs. Contracted firms agree to recycle any materials incurred during delivery for placement at the MSU Surplus Store and Recycling Center.
MSU prefers firms whose business culture supports sustainable environmental practices. We evaluate documentation of a firm's sustainability initiatives and economic impact within the state of Michigan.
MSU prefers firms whose business culture supports human rights initiatives. We evaluate documentation of a firm's human rights initiatives.
MSU prefers environmentally sustainable products. When applicable, we evaluate a firm's use and documentation of third-party certified products that are available.
Operations and Environmental Efficiencies
Food Waste Reduction
Clean Plates at State


Clean Plates at State is a program we operated for many years to encourage diners to take simple steps to avoid wasting food. The main goal was to determine the amount of post-consumer food waste at MSU dining halls and analyze its implications for Culinary Services. Through partnerships with IT Services and academic courses, SLE enhances the student experience by expanding their opportunity to learn and increase their enrichment of community, economic and sustainable living.


 

The most recent Clean Plates at State data shows an improvement from 3.16 oz. of food waste per person down to 2.96 oz. Results from an internal study suggest if food waste were cut from 3.16 oz. to 2.5 oz., the division would save about $380,000 per semester.


 
Please note this program ran from 2012-2019; however, it then ended due to the COVID-19 pandemic. Our team is currently collaborating with SLE Sustainability to identify innovative ways to review, analyze, and reduce food waste.
 

Closing the Food Loop


Culinary Services employs many strategies to close the food loop and reduce food waste on campus.


 

Brody Square uses a pulper to process post-consumer food waste, which includes a grey water system that conserves water while reducing food waste volume.


 

The

Food Scrap Worm Composting (Vermicomposting) Project also allows us to return minerals and organic matter in food residue to farms and gardens, maintaining healthy soils and keeping tons of food scraps out of landfills.
 
Materials are diverted to the MSU Student Organic Farm for composting, the south campus Anaerobic Digester to convert food and farm waste into energy used on campus, and Hammond Farms of mid-Michigan.
Tray-less Dining


All dining halls on campus are now tray-less to lessen food waste and support the university's goal of reducing materials diverted to landfills. Brody Square was the last dining hall to become tray-less, making the transition in the fall of 2022. Removing trays cut down on food waste and conserves water and energy used in cleaning trays. In addition, studies at other universities have shown a 50% reduction in food waste by removing trays.
Academic Integration and Collaboration
SLE contributes to student success at MSU through integration with academic programs. Connecting with academic curriculum provides students with hands-on experience and living-learning laboratories to enhance their engagement. Several examples are highlighted here.
Human Nutrition and Food (HNF) Courses
We partner with the 

Department of Food Science and Human Nutrition to help educate Spartans and provide hands-on experience outside the classroom. HNF students in the foodservice management course plan and execute an event, including budgeting, preparing and serving foods, designing a layout, theme development, and marketing. Often there is an overlap with sustainability efforts. For example, in the photo, a student group chose to focus on Earth Day for their event theme.


 
Residential Initiative on the Study of the Environment (RISE)


RISE is an interdisciplinary living-learning program focused on sustainability and environmental stewardship. This academic team has unique partnerships with several SLE units, including Culinary Services. Together with SLE collaborators, students are studying how to reduce food waste, decrease energy and water consumption, and send less solid waste to landfill.

 For more information, see the RISE annual report online.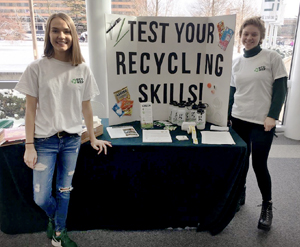 Outreach and Engagement
SLE plays a key role in providing engagement opportunities for students that enhance their learning experience outside of the classroom. These co-curricular opportunities and learning experiences are recognized through the newly developed "My Spartan Story" program, administered by the Registrar's Office. 
Student Engagement
Eco Rep Program
SLE recently expanded an existing student Eco Rep Program to further engage with Spartans campus-wide. Interested students living on campus apply and are interviewed, with the goal of having reps throughout the 27 undergraduate residence halls. Once they are onboarded, reps coordinate and help with sustainability events, educate others, implement practices in their building, and coordinate and monitor building recycling. For more information, email sustainability@rhs.msu.edu.
Registered Student Organizations
Throughout the fall and spring semesters, SLE partners with student groups to support their efforts and events. One example is MSU's student chapter of Slow Food, which hosts a variety of engagement opportunities, including cooking demonstrations, farm volunteering, and skill workshops. If you're interested in seeing what RSOs are available to join, visit the Student Life website.

Team Member Engagement
Eco Ambassador Program
Selected ambassadors in the dining units serve as champions of sustainability in their area, identifying opportunities to reduce waste and costs as well as educate their teams. They receive a toolkit with a wealth of resources to support efforts as well as a sticker to showcase their role.

Internship Program
SLE developed a summer internship program to provide opportunities to full-time frontline team members, allowing them to gain experience in other areas of the division. Current internships focus on sustainability, project management, team supervision and more. Sustainability interns develop best practices, energy and material conservation, assessments, food waste programs, marketing and communications, and training.

Training
Full-time and student team members in Culinary Services undergo mandatory training dedicated to sustainability, covering conservation, packaging, food waste, and more. On a broader level, SLE full-time team members who are new to their role go through Celebrate State, a mandatory three-day training that includes sections on social responsibility and sustainability.
If you have any questions regarding our efforts, please contact SLE Sustainability at sustainability@rhs.msu.edu.