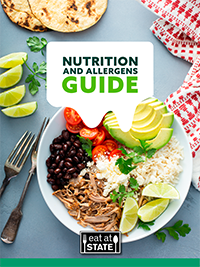 MSU Culinary Services (CS) provides an array of resources to help you self-navigate our campus dining options. They are included in our interactive, digital brochure at go.msu.edu/dietaryguide.
To self-report a dietary restriction and contact the CS Dietitian, complete our simple online form at go.msu.edu/dietarysurvey. Once you submit the completed form, our dietitian will follow up with you. 
Please visit our Nutrition and Allergens FAQs page for common questions and answers on a variety of topics, including allergen labeling, religious restrictions, vegan and vegetarian dining, and other nutrition-related subjects. 
Some students with food allergies, Celiac Disease, or other medical conditions that impact dining on campus may require further assistance. In that case, the following steps may be taken:
Contact the Resource Center for Persons with Disabilities (RCPD) to self-identify with a disability condition that impacts your ability to self-navigate in campus dining: rcpd.msu.edu/get-started
 
Submit documentation of your food allergy or medical condition per the RCPD medical documentation guidelines. These guidelines will be communicated to you by an assigned RCPD specialist upon self-identification. It is critical that the student monitors their MSU email for this communication.
 
Qualified students with a documented disability may be eligible for dietary accommodations. If approved by the RCPD, the student will be formally referred to the CS Dietitian at dietitians@rhs.msu.edu, to receive reasonable accommodations. It is the responsibility of the student to contact and meet with the dietitian after approval.
MSUtrition
Guests can access our online tool, MSUtrition, here: msutrition.rhs.msu.edu. The resource allows diners to filter our menu options by allergens and dietary preferences. In addition, hovering your mouse cursor over a menu item name will show the detailed ingredients for the item.
Thrive at Owen | Allergen-free Dining Hall
Located within Owen Hall in River Trail Neighborhood, Thrive is Certified Free From™ the Major 9 allergens (egg, fish, milk, peanuts, sesame, shellfish, soy, tree nuts, and wheat) plus gluten. A third-party auditor reviews and approves all ingredients and recipes used within Thrive. Regular allergen testing is performed by Thrive team members, and results are sent to the auditor monthly.
Thrive is by no means the only location those with dietary restrictions can visit, as all dining halls successfully accommodate those with dietary needs daily. Thrive accepts campus dining plans or guests can pay our public dining rate at the door. The location is all-you-care-to-eat upon entry. Hours of operation can be found at go.msu.edu/dininghours.