Below are frequently asked questions related to nutrition and allergens. If you have any questions that are not answered below, please contact our dietitian at dietitians@rhs.msu.edu.

Can I speak with the Culinary Services dietitian?
Yes! We encourage individuals with dietary restrictions to contact our CS Dietitian at dietitians@rhs.msu.edu to discuss needs. Our dietitian can provide tools and resources to help you navigate campus, as well as answer questions and facilitate meetings with the culinary team.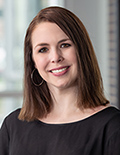 Kelsey Patterson, RD
dietitians@rhs.msu.edu
Do you post ingredient and nutrition information?
Yes! MSUtrition (msutrition.rhs.msu.edu/NetNutrition) allows you to plan and track your meals, view nutritional content and ingredients for Eat at State menu selections, and filter menu options based on your allergies and dietary preferences. This helpful PDF will walk you through how to use the site.
MSU Culinary Services makes every effort to thoroughly train our staff and label food allergies; however, please note that ingredients and nutritional content may change due to recipe substitutions, manufacturing changes, or other outlying factors. Please be aware that food items are prepared in a shared kitchen and do pose a risk of cross-contact.
What kind of menu signage is available in the dining halls?
Menu signs are posted at the points of service. Under the menu item name, there will be a contains line listing any potential allergens/restrictions. Our menu signs track: 
Major 9 allergens (egg, fish, milk, peanuts, sesame, shellfish, soy, tree nuts, and wheat/gluten)
Alcohol
Beef
Coconut
Gelatin
Pork
Vegan
Vegetarian
Please note we only label allergens when they are physically present. If an ingredient list includes any of the following claims, the allergen is not labeled; however, information is available in the ingredient lists found in MSUtrition (msutrition.rhs.msu.edu/NetNutrition). Chefs and dining managers are available for any ingredient or allergen questions. If you're unable to identify a chef or manager, please ask the entrance host and they can assist you.
Produced on the same line = no allergen
Produced in the same facility = no allergen
May contain = no allergen
Are there dining halls on campus that don't use peanuts or tree nuts?
Yes! Nut-conscious locations include The Gallery at Snyder/Phillips, Holden Dining Hall, Holmes Dining Hall, and MSU Bakers. This means everything served from the venues or that is house-made by our team does not contain peanuts or tree nuts. Any items coming from MSU Bakers are not made with peanuts or tree nuts. Coconut is allowed. Please know that peanuts and tree nuts are still in the kitchens, as they are available in self-serve areas, such as the salad bar or almond milk. In addition, Holden and Holmes are grab & go locations, so they offer prepackaged retail items like individual almond milks or candy bars that may contain nuts. 
Do the dining halls have gluten-free bread, dairy-free yogurt, and other common alternatives available? 
Yes! Each dining hall, except for Thrive, includes a designated allergen-conscious area that contains gluten-free bread, wraps, muffins, cookies, cereal, and other alternatives. Dairy-free yogurt, soy milk, almond milk, and rice milk are offered as dairy-free alternatives. Individually wrapped condiments and dressings are available to help prevent cross-contact from serving lines.
Are there Kosher dining options?
Yes! Culinary Services offers Kosher meal service at Brody Square and The Gallery at Snyder/Phillips. Service is available Sunday through Thursday for dinner during the fall and spring semesters.
To accommodate Kosher rules, all foods served through the program are prepared in a Kosher Kitchen at Woody's Oasis restaurant in East Lansing. The program is certified by Kosher Michigan. MSU's Kosher meal service program was developed in partnership with Rabbi Jason Miller of Kosher Michigan; Cindy Hughey, director of the East Lansing Hillel Jewish Student Center; and Chuck Raad, principle owner of Woody's Oasis.
During Passover, we offer canned tuna, hard-cooked eggs, matzo crackers, and packaged sliced meats that are Kosher-certified for Passover. Single-service disposable dinnerware is also available upon request. MSU Hillel typically offers meal options as well. Please contact them for the most up-to-date information.
Are there Halal dining options?
Yes! Culinary Services offers meal items to accommodate students requiring Halal dining options. A dining hall in each neighborhood will offer Halal proteins for dinner. Halal proteins will be designated as 'Halal' in the menu item name. Vegan choices are available daily to supplement Halal options in our dining halls.
We also offer Ramadan dining options during the observance. More information is shared through our social media accounts (@EatAtState) and in the News section of our website leading up to Ramadan. 
Can I expect to find a variety of vegan and vegetarian menu options?
Culinary Services has a wide variety of options across campus and there are a number of things we do to support a vegan or vegetarian lifestyle. Here on campus, we follow the guidelines of an ovo-lacto vegetarian. The menu signs at the points of service will have one of the following icons if the menu item is vegan or vegetarian (insert icons below).


We have several venues across campus that are dedicated to offering plant-based menu items. Other residential dining halls, while not in a dedicated venue, will offer complete vegan meals daily. They can be easily identified by referencing the icons above on menu signs or through MSUtrition (msutrition.rhs.msu.edu/NetNutrition). 
The Vista at Shaw: Garden
The Gallery at Snyder/Phillips: Garden
South Pointe at Case: Veg Out
Brody Square: Veg Out
Are there healthy options to choose from? 
Culinary Services offers a variety of selections and resources, enabling guests to achieve a balanced diet based on individual dietary needs. This includes options that are comprised of a wide range of nutrients. We all have different versions of "healthy," therefore, our Dietitian is available to meet with students to discuss dietary needs and goals, as well as resources for achieving them. To contact the dietitian, please send an email to dietitians@rhs.msu.edu.