Holden Dining Hall is closed for the summer. Please visit our Dining Hours page at https://eatatstate.msu.edu/dining-hall-hours for a complete listing of summer dining hours.
The menus below are subject to change based on demand or last-minute changes. If you have menu and/or allergen questions when dining with us, please reach out to a chef and/or manager for assistance.
Lunch Menu
Wednesday, May 16th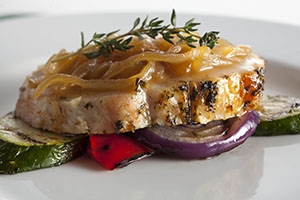 Homestyle
Comfort foods that'll make you warm up to college and feel right at home. Features contemporary entrées, carved meats and fresh rotisserie chicken.
Contains:

Wheat/Gluten

,

Soy

,

Milk

,

Beef
Sabor
Enticing Latin-inspired entrées, including made-to-order Tex-Mex classics, and traditional Central and South American favorites.
Contains:

Wheat/Gluten

,

Soy
Contains:

Wheat/Gluten

,

Soy

Contains:

Milk

,

Tree Nuts

,

Peanuts

Contains:

Wheat/Gluten

,

Soy

,

Milk

,

Beef

Pickled Daikon and Carrots

Pickled Onions and Jalapenos