FOR RELEASE ON:
May 12, 2020 
CONTACT:
Leah Ball, Communications Manager
Culinary Services
Phone: 734-552-1707
leahball@msu.edu
EAST LANSING, Mich. — In early May, Michigan State University (MSU) was announced as the recipient of the 2020 Best Allergy Innovation Award from AllerTrain™.
"Our team has shown great passion for ensuring those dining on campus not only have a safe experience, but are well nourished when they Eat at State," shared Rebecca Selesky, executive director of MSU Culinary Services. "We strive to set the industry standard and continue innovating with developments like our certified allergen-free dining hall, unique options for concessions venues and more. Amid the current COVID-19 response, we are pleased to share the good news and acknowledge this significant honor."
A leading food allergy and gluten-free training program, AllerTrain™ by MenuTrinfo® recognizes industry leaders at the forefront of food allergy safety, education and service through their annual allergy awards.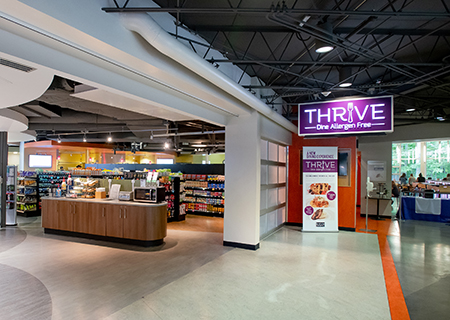 Leading up to July 2019, MSU transformed a retail cash operation into the certified allergen-free dining hall Thrive. Located near central campus in Owen Hall, the project emerged from a growing need that surfaced as more and more students and community members voiced their allergen challenges.
"We take a great deal of pride in serving all our guests, including those with allergens and dietary restrictions," explained Gina Keilen, registered dietitian and administrative business manager. "The development of Thrive really showcases how dedicated our team is to providing quality service and giving those with allergens a dining experience some never thought was possible, especially at a collegiate level."
Thrive is certified free from the Big 8 allergens (eggs, fish, milk, peanuts, shellfish, soy, tree nuts and wheat) plus gluten. As the number of students reporting food allergies continued to rise nearly 175% each year, MSU placed emphasis on expanding the food allergy program, with Thrive serving as a key element to success. The offering has been significant for the community, with some guests traveling hours to experience a safe space to dine.
"As an individual with severe food allergies, I think the accommodations at MSU have been outstanding," expressed Marissa Burk, a business-admitted junior. "Prior to coming to MSU, I never had the opportunity to eat at a place like Thrive. At all the dining halls, especially Thrive, I've enjoyed a fantastic variety of foods and felt completely safe at all times. Every employee is knowledgeable about food preparation and seems happy to help answer my questions."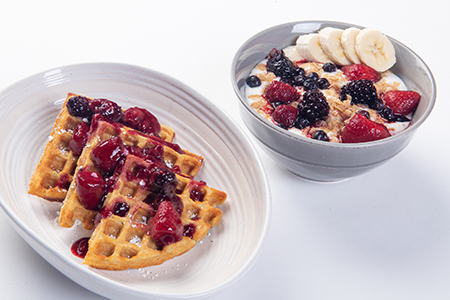 Three main venues within Thrive offer an array of cuisine, including grain bowls, tacos, breakfast favorites, tandoori chicken, smoked brisket, eggplant parmesan and a student favorite, chicken tenders and French fries with various seasonings and homemade sauces.
Thrive is certified free from by third-party vendor Kitchens with Confidence. All ingredients must be approved by the vendor, and allergen testing for the Big 8 allergens plus gluten is performed by team members in the back of the house to ensure the kitchen is free from those allergens. Extensive training occurred prior to opening Thrive, not only among team members, but any university partners and external contacts who work with the department, including facilities management and vendors.
"Our manager [Yu-Chien Chang] and I cannot thank everyone enough, from our on-campus partners, to the surrounding community," shared Jordan Durkin, Thrive sous chef. "Throughout the planning phase of the project, all the way through opening, the efforts and passion of all those involved has been remarkable and demonstrates our true Spartan spirit."
Since opening Thrive, MSU has hosted visits for a variety of university dining programs, community organizations and outreach programs as well as one large technology company who wanted to learn more about the concept. Industry presentations have also been provided for the National Association of College and University Food Services, MenuTrinfo, and Food Allergy Research & Education.
Beyond Thrive, the university has enhanced its allergy program in other areas. Lower Bowl, a concessions venue introduced at Spartan Stadium, features allergen-friendly cuisine made without the Big 8 allergens plus gluten. MSU Bakers, the on-campus bakery, transitioned to a nut-conscious facility, where all items are made without peanut or tree nut containing ingredients. Holden and Holmes Dining Halls are also nut-conscious options. Additionally, dining plan holders have more common alternatives like dairy free milk available with their Combo-X-Change, which is a flexible option for meals on the go.
"I'm thrilled with the positive response Thrive has received and, most importantly, with the opportunities it has provided for students with food allergies to safely dine on campus," concluded Kelsey Patterson, registered dietitian. "I look forward to seeing what future innovations Culinary Services can make to continue to push the bar for individuals with food allergies."
Culinary Services, one of the largest self-operated university foodservice systems in the country, is a department within the Division of Residential and Hospitality Services at Michigan State University. For more information, visit eatatstate.com, like Eat at State on Facebook and follow @eatatstate on Instagram and Twitter.
###