by Elana Lycos, sophomore, dietetics major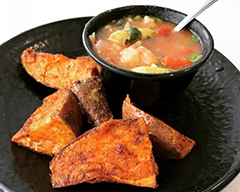 Before digging into the turkey and numerous casseroles that came with Thanksgiving dinner, I spent a week trying to get a taste of what it was like to be vegan. November is Vegan Awareness Month, so I thought it was the perfect time for me to gain a new perspective on the vegan lifestyle since it had been gaining some serious momentum around the U.S.
My goal was to eat one vegan meal each day for a full week. Originally, I had planned to go full-force vegan; however, after conducting some research, I found that by cutting out some of the prohibited foods, I would be missing important nutrients and vitamins. Since this transition was only temporary, I didn't want to purchase supplements to make up for those lost nutrients, so I decided to go "partial" vegan.
As a student on campus at Michigan State University, I was afraid that finding vegan meals in the dining halls would be a difficult task. However, I was pleasantly surprised to find that MSU's dining options were not limited to any one type of lifestyle, so there were many vegan options to choose from. The best part is that my luck didn't end with the dining halls. Sparty's stores around campus had vegan items to choose from as well. I tried things like the tabouli salad, and hummus with pita bread cup (even some of the Pop-Tarts® were vegan!)
I found many of my favorite vegan meals from the Veg-Out venue in Brody Square. One of my favorite meals was the vegetable calzone with a side of sweet potatoes, and a hot cup of chia tea. Basically anything that was breaded and stuffed with vegetables was a go-to of mine! For example, I also really enjoyed the vegetable pupusa, which was fried bread filled with peppers and onions.
During the week, I decided to be a little adventurous and try a vegan veggie burger too. As an avid fan of beef burgers, I have always been hesitant to try any alternatives, like black bean burgers, veggie burgers, etc. I was actually quite pleased with the mouthful of flavor that the veggie burger provided. I definitely plan to eat one again in the future and would recommend that others do the same!
MSU made my little experiment incredibly easy. For one, the dining halls post menus at each of their stations, with a vegan logo next to every item served that qualifies as such. In addition, Sparty's has a variety of snack foods to choose from that are fit for someone with a vegan lifestyle.
I would recommend visiting the following pages to find information on the menus for each of the dining halls. These links were very beneficial to me, especially for planning my meals. Nearly half of the time that I ate a vegan meal in the dining halls, I used these sites to see what was being offered that day. The other half of the time, I went in without any prior knowledge of what was being served, and toured each station to assess my options.
All in all, as somebody who is impartial in saying whether or not the vegan lifestyle is a "better way" to live, I really enjoyed broadening my horizons and trying some new foods. In the future, I may try to go completely vegan for a week, or longer, to see how it affects my body in a broader sense. For now, I plan on incorporating some of the yummy vegan foods that I tried into my diet!
Vegan blogs to check out: