FOR RELEASE ON:
May 20, 2020
CONTACT:
Leah Ball, Communications Manager
Culinary Services
Phone: 734-552-1707
leahball@msu.edu
EAST LANSING, Mich. — Michigan State University (MSU) was recently recognized with two gold awards for sustainability from the National Association of College and University Food Services (NACUFS). The awards recognize food procurement practices as well as outreach and education efforts. The last time NACUFS honored MSU with Sustainability Awards was in 2014 for procurement and recognition of a Student Green Champion.
Presented annually, the NACUFS Sustainability Awards support the globally accepted triple bottom line (TBL) philosophy, a method of evaluating operational performance by measuring financial success as well as environmental sustainability and social responsibility — also known as "people, planet, profit."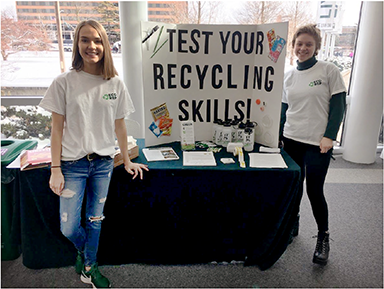 "We greatly appreciate this recognition of our sustainability efforts, as we continue to advance the university's mission and minimize our footprint," said Rebecca Selesky, executive director of MSU Culinary Services (CS). "Our team remains committed to continuously strengthening our local sourcing strategy, supporting campus partnerships, and enhancing student and staff engagement."
Throughout the academic year, the Food Stores procurement team focused on implementing TBL initiatives that reduce costs, limit waste and decrease energy consumption. Programs emphasized growth in participation and access for local suppliers, expansion of university partnerships, decreasing plastic use and transitioning to non-petroleum-based products, reducing freight costs and emissions, and evaluating product and sales data to seek improvements.
"Receiving these awards is an absolute honor," expressed Lisa Farley, CS associate director of support services. "The team is very passionate about sustainable practices and dedicated to supporting programs and partners that align with and support the university's goals and initiatives. We are thankful for the acknowledgment and will continue to responsibly manage our valuable resources."
Highlighted supply chain outcomes include a 27% cost savings and reduction of plastic usage by more than 28,000 pounds. Additionally, the procurement team streamlined operations to reduce the impact of transportation emissions and significantly lessen deliveries, issuing 435 less purchase orders and a 20% decline in overall dining orders.
Expanding university partnerships with MSU Dairy Store, MSU Meat Lab, Bailey GREENhouse and Urban Farm, and MSU Student Organic Farm also grew support of teaching and research. Implementing MSU Dairy Store ice cream into residential dining as the exclusive provider resulted in more than $45,000 to support their facility and streamlining Meat Lab product use increased annual intake by 12,868 pounds.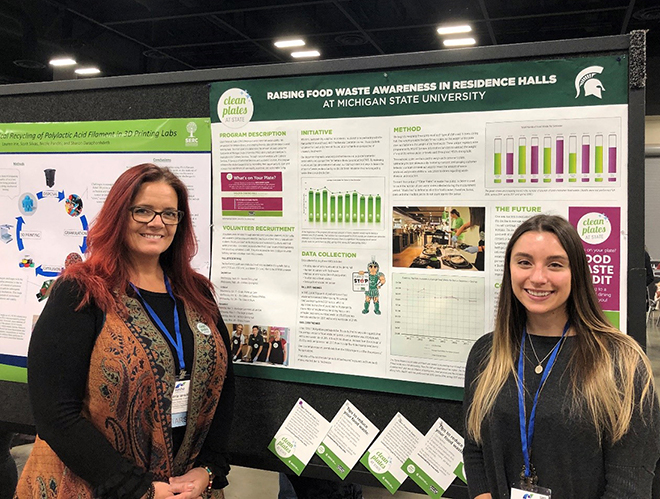 In addition to promoting a high-quality, sustainable supply chain, the department implemented strategies to further advance outreach and education. Increased efforts surrounding the annual Clean Plates at State food waste assessment program included the creation of a video series for volunteers and the campus community. Division of Student Life and Engagement (SLE) team members also presented a Clean Plates poster session at the Association for the Advancement of Sustainability in Higher Education's (AASHE's) annual conference in October 2019. Students were able to attend, advancing their passion for sustainability and helping them connect with leaders.
"I'm very fortunate to work alongside MSU students, experiencing their drive and determination for environmental responsibility," shared Carla Iansiti, SLE sustainability officer. "Connecting with students is of the utmost importance to our team and we strive to give them opportunities and education they can take beyond college and into their communities. We wouldn't see success in these programs without students and their drive for the university to deliver results."
Beyond engaging and educating an external audience, CS demonstrates a commitment to internal efforts. A summer internship program helps full-time frontline team members pursue a passion for and interest in sustainability. Kitchen sanitation worker Brittney Sprague worked to create an Eco Ambassador Program during her time in the position. Selected ambassadors in the dining units serve as champions of sustainability in their area, identifying opportunities to reduce waste and costs as well as educate their teams.
Full-time and student team members in CS now undergo mandatory training dedicated to sustainability, covering conservation, packaging, food waste and more.
MSU has celebrated sustainability achievements throughout 2019, including a GOLD rating from AASHE using their Sustainability Tracking and Reporting System. The university was named a top 20 school in the Princeton Review's Guide to Green Colleges: 2019 Edition as well.
Culinary Services, one of the largest self-operated university foodservice systems in the country, is a department within the Division of Student Life and Engagement at Michigan State University. For more information, visit eatatstate.com, like Eat at State on Facebook and follow @eatatstate on Instagram and Twitter.
###