On March 30, 2022, our Culinary Services team celebrated A Whole Day for Whole Grain. In addition to highlighting where guests could try various whole grains on campus that day, we shared a video series where our chefs featured whole grains and how they can be incorporated into recipes.
Spartans can access the recipes and videos below if they missed them on our social media channels. We hope these dishes are something you can recreate at home to experience whole grains and their diverse flavors!
We're proud to support the observance celebrated annually by the Oldways Whole Grains Council! Please follow the link to visit their website and learn more about their efforts.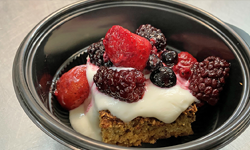 Jonathan Hughes, Executive Sous Chef, East Neighborhood
Ingredients
12 ½ oz. quick oats

2 ½ tsp. baking powder

7/8 tsp. Kosher salt

2 cups 2% milk

¾ cup + 1 Tbsp. whole liquid eggs

7 ¼ oz. unsweetened applesauce

6 ¾ oz. light brown sugar
Optional Toppings
Fresh strawberries

Fresh blueberries

Bananas

Low fat vanilla yogurt
Instructions
Combine oats, baking powder and salt.

In a separate bowl, combine eggs, milk, applesauce and brown sugar. While mixing, slowly add dry ingredients. Stir to incorporate all ingredients.

Pour the mixture into a baking pan. Bake at 325°F until golden brown and firm in the middle, about 20-25 minutes. Reserve and serve warm at a minimum of 145°F.

Wash and cut all fruit. Top your baked oatmeal with desired fruit and yogurt.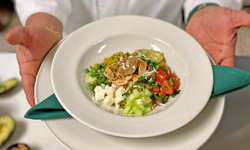 Rajeev Patgaonkar, Executive Sous Chef, South Neighborhood
Ingredients
1 lb. freekeh
1 oz. butter or olive oil

½ stalk of leeks, thinly sliced

⅓ cup celery, diced small

1 small sprig of fresh thyme       

1 tsp. vegetable base

⅓ tsp. turmeric

4 cups hot water (plus more, if needed)

Salt and black pepper

1 cup kale, chopped
Toppings
1 cup Pico de Galo or small diced tomato

½ cup toasted almonds, cashews or walnuts

4 oz. crumbled feta or goat cheese

1 avocado, cut in medium chunks

½ cup English cucumber, diced small

¼ cup fresh herbs like cilantro, parsley and chives
Optional Toppings
½ cup toasted desiccated coconut

Egg any style, or desired protein (about 2 oz. per serving)

4 Tbsp. sunflower butter
Instructions
In a quart stock pot, heat the butter, leeks and celery. Sauté for 3 minutes.

Add the freekeh and fresh thyme. Cook for 4-5 minutes stirring regularly.

Once you get a fragrant aroma, add the vegetable base and turmeric. Mix well and add the hot water.

Bring to a quick boil, reduce the heat and cover with a lid or foil. Cook for 20 minutes.

Once the mixture is tender and nearly all the water is absorbed, add the seasoning and chopped kale. Mix well.

Cover and let the mixture rest for 5-10 minutes.

Portion about 6 to 8 oz. in a serving bowl. Add desired toppings and enjoy!
Honey Sriracha Chicken with Quinoa, Zucchini and Summer Squash


Makes 5 servings
Follow this link to view the video
Brittany Lesage, Sous Chef, River Trail Neighborhood
Ingredients
15 oz. quinoa pilaf (see recipe below)

20 oz. sriracha and honey glazed chicken

15 oz. seasoned zucchini and summer squash
Instructions
Prepare each of the recipes below.

Assemble each plate with 3 oz. quinoa, 5 oz. chicken, and 3 oz. zucchini and summer squash.
Quinoa Pilaf
Ingredients
1 ½ Tbsp. vegetable oil

5 oz. white quinoa

3 Tbsp. yellow onion, small diced

3 Tbsp. whole carrots, small diced

2 Tbsp. celery

¾ cup + 3 Tbsp. water

1 ½ tsp. vegetable base
Instructions
Rinse quinoa and drain well.

Heat oil and cook quinoa and veggies until veggies are softened, about 5 minutes.

Add water and base. Cover and cook until the liquid is absorbed and the quinoa is cooked, about 30 minutes.

Reserve warm for use.
Honey Sriracha Chicken
Ingredients
1 lb. + 3 oz. boneless skinless chicken thighs

3 Tbsp. tamari soy sauce

1 ½ Tbsp. honey

2 Tbsp. sriracha sauce

1 tsp. fresh peeled garlic, minced

1 tsp. sesame oil

¼ cup fresh cilantro
Instructions
Combine all ingredients except chicken. Mix well. Add chicken and let marinate at least 4 hours.

Reserving the marinade, drain chicken.

Heat marinade to slightly thicken for a glaze consistency.

Mark chicken on chargrill, brushing with glaze. Finish cooking in the oven until the internal temperature reaches 165°F.

Brush with glaze again and reserve for use in the full recipe.
Zucchini and Summer Squash
Ingredients
1 oz. vegetable oil

1 ¼ oz. peeled Spanish onions, sliced

8 oz. zucchini squash, ¼" pieces

8 oz. yellow squash

Dash of Kosher salt, to taste

Dash of black pepper, to taste
Instructions
Warm oil on 350°F grill.

Add onions, zucchini and squash. Sauté 5-7 minutes, or until tender.

Adjust taste with salt and pepper, as needed.

Reserve and serve warm at a minimum of 145°F.
Matt Wilson, Executive Chef, Kellogg Hotel & Conference Center
Ingredients
½ cup fine bulgur wheat

4 firm Roma tomatoes, very finely chopped

1 English cucumber, small diced

2 bunches of curly parsley, stems removed and finely chopped

12-15 fresh mint leaves, finely chopped

4 green onions, sliced very thin

3 Tbsp. fresh lime juice

4 Tbsp. Extra virgin olive oil

Kosher salt to taste
Instructions
Rinse the bulgur wheat and soak it in hot water for approximately 10 minutes. Drain very well, pressing out any excess moisture. Set aside.

After soaking the bulgur, add it to boiling salted water and cook for approximately 5 minutes. Drain and fully cool.

Once the bulgur is cooled down, place chopped vegetables, herbs and bulgur in a mixing bowl. Season with salt and toss gently.

Add olive oil and lime juice to the mixture. Toss gently again to incorporate.

Cover with plastic wrap and place in refrigerator for 30 minutes. Transfer to serving dish.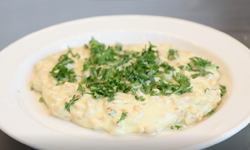 Kari Magee, Executive Chef, Retail Services
Replace the butter with vegan butter or olive oil, and substitute ¼ cup nutritional yeast for the parmesan to make this a vegan recipe.
Ingredients
3 Tbsp. butter, plus 2 Tbsp. butter to finish

½ cup groats (or steel cut oats if they are easier to find)

1 shallot, small diced

2 garlic cloves, minced

½ cup white wine

5 cups vegetable stock

½ cup oat milk or heavy cream

1 cup shredded parmesan cheese

1 tsp. lemon zest

Dash of crushed red pepper

½ tsp. thyme

Salt and pepper to taste
Instructions
Melt 3 Tbsp. butter in a thick bottomed pad, on medium heat. Add shallots and sauté until soft.

Add garlic and sauté for one minute. Turn down heat a little, if needed.

Add crushed red pepper and oats to butter mixture. Stir and then add in the wine. Reduce the wine to half. Add 1 cup of broth at a time, reducing the liquid to ¼ before adding the next cup.

When the broth is all in, add in oat milk or cream and the rest of the butter. Add parmesan (or nutritional yeast for vegan) and lemon zest. Season with salt and pepper.

Serve immediately.

Top with oven roasted tomatoes, roasted squash and/or sautéed kale.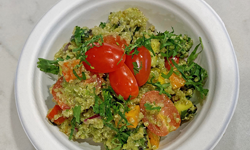 Kara Peruchietti, Sous Chef, North Neighborhood
Ingredients
8 oz. quinoa

2 cups vegetable stock

8 oz. sweet potato

3 oz. red onion

4 oz. zucchini

4 oz. squash

4 oz. red pepper

4 oz. yellow pepper

4 oz. poblano

4 oz. cherry tomato

2 oz. kale

¼ cup cilantro

2 Tbsp. vegetable oil

Salt and pepper to taste
Dressing Ingredients
¼ cup + 1 Tbsp. lime juice

¼ cup jalapeno

¼ cup honey

2 tsp. garlic

¼ cup cilantro

1 Tbsp. shallot

1 Tbsp. Dijon mustard

3 Tbsp. rice vinegar

½ cup vegetable oil
Quinoa and Vegetable Instructions
Rinse the quinoa if it is not pre-washed.

Boil the vegetable stock. Add the quinoa and reduce the heat down to a simmer for about 15-18 minutes.

Cook the quinoa until it is tender, and the outside coating has opened up. Turn off the heat and leave it covered to rest for about 10 minutes. Spread the quinoa into a dish and put in the refrigerator to cool down.

Cut sweet potatoes, zucchini and squash into ½-inch thick slabs lengthwise.

Cut the red onion into ½-inch slabs from top to bottom.

Cut the sides of the peppers into planks and remove the seeds and membranes.

Slice cherry tomatoes in half lengthwise.

Chop the kale roughly into bite size pieces.

Finely chop the cilantro.

Set all vegetables aside.

Par cook the sweet potatoes until they are starting to soften but are still under-done.

Toss the cooked sweet potatoes, zucchini, squash, red onion, red pepper, yellow pepper and poblano in the 2 Tbsp. of vegetable oil, salt and pepper, then char grill them until they are tender. Cool the vegetables down in the refrigerator.
Dressing Instructions
Roughly chop the jalapeno and shallots into small pieces that can be blended easily.

Combine all ingredients except for the ½ cup of vegetable oil. Blend them together until smooth.

Next, stream the vegetable oil into the dressing slowly until it is fully incorporated with no separation.
Mixing Instructions
Combine the quinoa, cooked vegetables, raw vegetables and dressing in a bowl, and enjoy!