Each year, Whole Grain Sampling Day is recognized on March 31 to celebrate the flavors and health benefits of whole grains. For 2021, we are offering a variety of whole grains in locations to provide the campus community with an opportunity to sample different types of grains and learn more about them.
Additionally, we are sharing a series of videos and accompanying recipes to give Spartans everywhere a chance to create new dishes at home and experiment with unique grain products.
We'd like to thank our partners at InHarvest for providing grains we serve on campus, including those featured in our video series this year.
Where can I sample whole grains on March 31, 2021?
Grains listed below are being served on this date, while quantities last. Visit our campus dining locations to try whole grains!
The Edge at Akers
Bibimbap Grain Bowl at the Sticks and Noodles venue (lunch)

Chicken Shawarma with Quinoa Pilaf at the Tandoori venue (lunch)

Al Pastor Tacos with White Rice at the Tandoori venue (dinner)

Shrimp Creole with 5 Grain Rice Blend at The Pit venue (dinner)
Brody Square
Arborio Rice in the Roasted Vegetable Risotto at the Veg Out venue (lunch)

Wild Rice with Cherries and Squash at the Homestyle venue (dinner)

Jasmine Rice and Brown Rice with Stir Fry at the Pangea venue (lunch and dinner)

Hearty Grain Soup at the S2 venue (lunch and dinner)
South Pointe at Case
Jasmine Rice at the Great Lakes Plate venue (lunch)

Basmati Rice at the Veg Out venue (lunch)

Herbed Rice Pilaf at the Veg Out venue (dinner)
Sparty's Market
Groats Risotto (samples during lunch)
MSU Union Food Court
Farro Grain Bowl (lunch/dinner)

Chicken Shawarma Grain Bowl (lunch/dinner)

Chickpea and Veggie Grain Bowl (lunch/dinner)
What are some recipes I can try at home?
Four of our chefs chose a grain and accompanying recipe to feature for Whole Grain Sampling Day. Enjoy the videos, recipes and fun facts below!
Groats Risotto
Featured by Retail Services Sous Chef Kari Magee
Follow this link to view the video
Replace the butter with vegan butter or olive oil, and substitute ¼ cup nutritional yeast for the parmesan to make this a vegan recipe.
Ingredients
3 Tbsp. butter, plus 2 Tbsp. butter to finish
½ cup groats (or steel cut oats if they are easier to find)
1 shallot, small diced
2 garlic cloves, minced
½ cup white wine
5 cups vegetable stock
½ cup oat milk or heavy cream
1 cup shredded parmesan cheese
1 tsp. lemon zest
Dash of crushed red pepper
½ tsp. thyme
Salt and pepper to taste
Instructions
Melt 3 Tbsp. butter in a thick bottomed pad, on medium heat. Add shallots and sauté until soft.

Add garlic and sauté for one minute. Turn down heat a little, if needed.

Add crushed red pepper and oats to butter mixture. Stir and then add in the wine. Reduce the wine to half. Add 1 cup of broth at a time, reducing the liquid to ¼ before adding the next cup.

When the broth is all in, add in oat milk or cream and the rest of the butter. Add parmesan (or nutritional yeast for vegan) and lemon zest. Season with salt and pepper.

Serve immediately.

Top with oven roasted tomatoes, roasted squash and/or sautéed kale.
About Groats
Oat groats are another name for intact, hulled grains.

Groats have a slightly nutty taste that can be compared to browned butter. They have a semi-sweet flavor, in a comfort food type of way.

Among other nutrients, they are a source of the minerals, phosphorus and iron. Phosphorus is transported into your DNA, bone mineral tissue and ATP (a source of energy for your body). Iron is transported into hemoglobin and myoglobin, two proteins in your blood that are needed to transport and store oxygen.
Mediterranean Farro Salad
Featured by Kellogg Hotel & Conference Center Executive Chef Matt Wilson
Follow this link to view the video
Ingredients
1 quart water
1 lb. uncooked farro
1 English cucumber
1-pint grape tomatoes
1 medium red onion
1 small jar kalamata or black olives
1 small bunch fresh chives or green onions
1 cup crumbled feta cheese
1 cup extra virgin olive oil
½ cup fresh squeezed lemon juice
Instructions
Add water to a 2-quart saucepan and bring to a boil. Add farro to boiling water and turn down to a light simmer for 25 minutes, or until grains are tender. Drain in a colander and place in the refrigerator to cool.

Wash and dice cucumber, tomatoes, red onion, olives and chives. Set aside.

Juice lemons into a small bowl, removing all seeds.

Place cooled farro in a mixing bowl and add half of your olive oil and lemon juice. Toss to dress the grains.

Top the grain with all the diced vegetables and crumbled feta cheese.

Drizzle the remaining olive oil and lemon juice over the salad and sprinkle with salt and pepper.
Farro Facts
Farro has a nutty flavor and is often incorporated into Mediterranean dishes.

It's a great source of fiber, with seven grams per serving. Fiber is a component of plant-based foods that the body cannot digest or break down. Research has found that high fiber intake is associated with a lower risk of heart disease, obesity, type 2 diabetes, stroke, high blood pressure and digestive diseases.

Whole-grain Farro provides the best nutrients. This includes the inner endosperm, outer bran and germ. Pearled farro means that the outer bran has been removed. Semi-pearled will contain a bit more fiber and has the bran intact.
Quinoa Stuffed Tomatoes
Featured by East Neighborhood Sous Chef Joe Murphy
Follow this link to view the video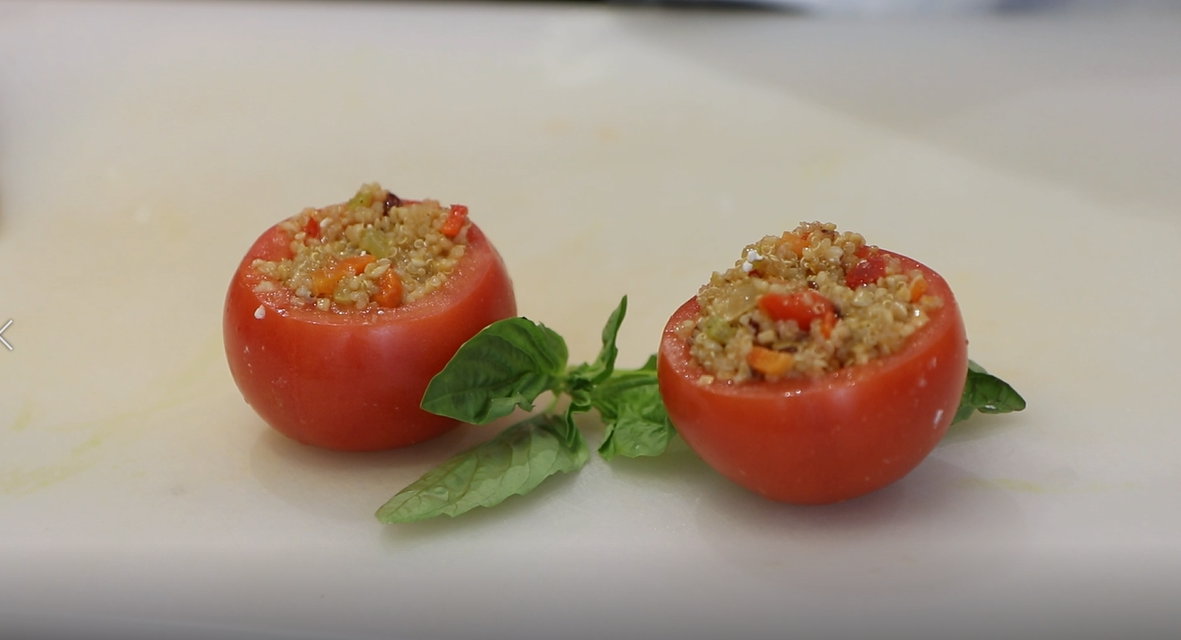 Ingredients
1 ½ teaspoon unsalted butter
½ cup red bell pepper, diced
½ cup yellow onion, diced
½ cup piquanté peppadew peppers, diced
½ cup whole carrots, diced
¼ cup fresh celery, diced
¾ teaspoon fresh peeled garlic, minced
Sautéed vegetable base, to taste
¾ teaspoon water
5 fresh tomatoes
4 oz. red quinoa
4 oz. black quinoa
4 oz. white quinoa
2 ½ oz. goat cheese log
Instructions
Melt butter in a sauté pan. Add peppers, onion, carrots, celery and garlic, cooking until tender.

Combine base and water to make a stock. Add to vegetable mixture and cook 10 minutes.

Cut tops off tomatoes and carefully scoop out the insides about halfway.

Cook quinoas according to package instructions. Combine cooked quinoa with vegetable mixture and mix well. Place 8 oz. into each tomato cavity.

Cooked stuffed tomatoes at 350°F for 15 minutes or until temperature reaches 145°F.

Reserve and serve warm, garnished with 1 Tbsp. cheese each.
Quinoa Facts
Quinoa is a plant-based, complete protein, which means it has all nine essential amino acids that our bodies cannot make on their own. Protein is an essential building block of muscle, skin, hair and nails, as well as antibodies, hormones and cell structures.
Sweet Potato and Quinoa Tacos
Featured by South Neighborhood Sous Chef Ben Segueda
Follow this link to view the video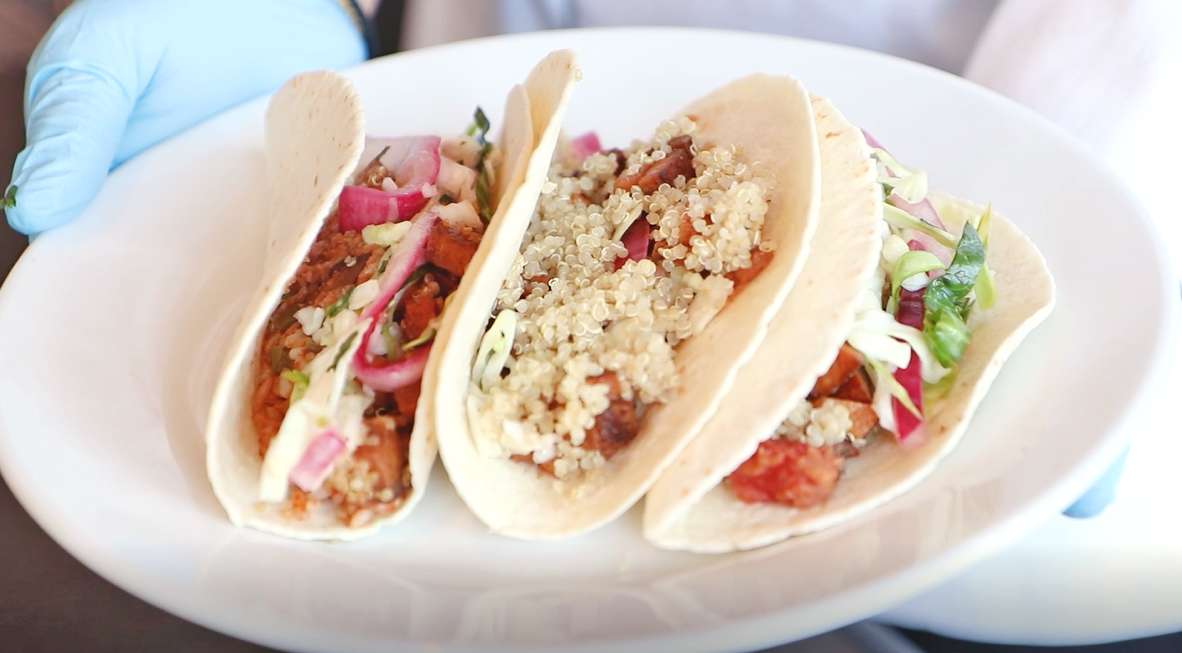 Step 1: Prepare Cilantro Lime Coleslaw
Ingredients
¾ cup red onions, julienned
1 lb. + 3 ½ oz. (about 9 ½ cups) whole green cabbage, julienned
2 1/3 Tbsp. + ¾ Tbsp. 100% lime juice
3 Tbsp. white vinegar
1 Tbsp. + ¼ tsp. sugar
¼ tsp. habanero peppers, minced
½ tsp. fresh cilantro, chopped
½ tsp. Kosher salt
1/8 tsp. black pepper
Instructions
Rinse red onions under cold water and drain well.

Combine red onions with cabbage.

Combine remaining ingredients and mix well. Pour over cabbage/onions, tossing to evenly coat. Let marinate overnight or for at least two hours.

Drain cabbage/onions well before serving, discarding the liquid.

Reserve and serve cold.
Step 2: Prepare Sweet Potato Quinoa Filling
Ingredients
1 lb. fresh sweet potatoes, diced
1 1/3 Tbsp. vegetable oil
2 ¾ tsp. smoked paprika
2 tsp. Kosher salt
1 tsp. black pepper
8.75 oz. white quinoa
2 ¾ cups water
2 tsp. ground cumin
2 tsp. smoked paprika
1 ½ tsp. cayenne pepper
2 tsp. granulated garlic
½ tsp. onion powder
½ tsp. curry powder
1 ½ tsp. Kosher salt
½ tsp. black pepper
Instructions
Toss diced sweet potatoes, oil, smoked paprika, salt and pepper in a bowl to evenly coat. Spread onto parchment-lined sheet trays. Roast at 350°F for 12 minutes. Reserve warm.

Combine quinoa and water. Bring to a boil and cook for 20 minutes.

Gently stir all spices into the quinoa, mixing well.

Fold in cooked potatoes.

Reserve and serve warm.
Step 3: Prepare Tacos
Ingredients
2.5 lb. quinoa sweet potato filling (prepared above)
1 ¼ lb. cilantro lime coleslaw (prepared above)
10 – 6 ¾" flour tortillas
Instructions:
Prepare taco filling and coleslaw.

Grill tortillas to heat through.

Fill tortillas with 4 oz. taco filling and 2 oz. coleslaw.

Serve immediately.